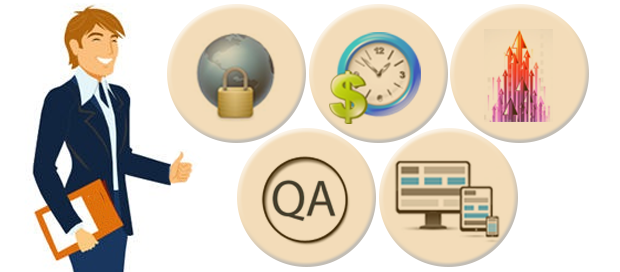 6. How will you ensure my site is responsive? What browsers will support it?
The standard developer response to this question is – all major browsers. Don't let that fool you, ask for specifics! Ask if your site will be compatible for Chrome, Firefox, Safari and IE. Yes, even Internet Explorer. While you may no longer use Window's default browser, a portion of your target demographic may use it.
7. Security, security and more security. How do you plan to make my website and server secure?
Ask the developer for his security framework implementation procedure. If your project consists of a simple website, robot.txt files, redirects and no follow will ensure a good amount of security. If your project is large scale or susceptible to attacks, think encrypted database and SSL (Secure Sockets Layer) in case of sites featuring payment options.
8. Resource load and traffic spikes. How much of it can my site handle?
If you plan on showcasing clever promotions or time based offers on your site, it needs to be equipped to handle the spikes in traffic. Furnish your developer with information on traffic projections and ask him your sites breaking point. You're here to do business and that will not happen if your site is slow or denies access to customers due to traffic load.
9. Time is money. How will you make sure my site loads as fast as possible?
In today's world, patience is no longer a wide-spread virtue. Customer's want things done quickly, smoothly and economically. Ask your developer for his caching methods. Typically he should be using APC caching provided your resource pool is on the cloud. Also consider a content distribution network if you're expecting considerable traffic from other countries.
10. Alright, we've hashed out all the details prior to starting work. What about QA?
QA is quality assurance, and that alone can make the difference between a successful project or a failed one. Ask your developer regarding their QA and Usability framework. Make sure that they cover all the key platforms on your demographics. Also set down a clause in your contract insuring you against unsatisfactory QA tests.
Now you know exactly what to ask a developer before the start of a project. The next time you undertake an IT venture, make sure you ask your solutions provider the above mentioned questions for a successful and satisfactory venture.
By: Vipin Jain