With the constant evolution of technology and mass adoption of mobile technologies, opportunities are opening doors for smarter and intelligent tomorrow. The concepts that were seen only in fictional movies have now become a part of our daily lives. Smart homes, AI-powered assistants, driverless cars and more are some of the examples of how connected world of devices have shaped up.
With plenty of innovations still to come, there is certainly no scarcity of opportunities and growth. And if you are among one of those thinking to invest in the Internet of Things (IoT), then I'm glad to say that the future looks bright and promising.
According to a report by Statista, the number of IoT devices worldwide is expected to exceed 75 billion by 2025, which is certainly jaw-dropping.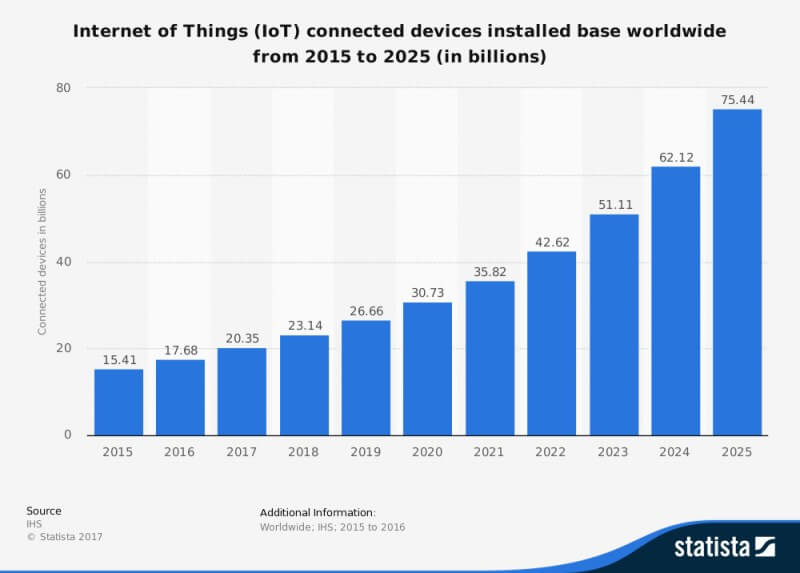 Not only tech behemoths, but medium scale enterprises are turning up to discover possibilities of IoT application development. It won't be an understatement if we call it the 'next big thing' in the technology sphere. It has grown tremendously in the recent years and is expected to increase by a rate of 400% till 2025- that's a monstrous growth.
So, how businesses looking to invest in IoT application development can take advantage of the existing schemes. Let's discuss several IoT business ideas for companies across several industries including retail, healthcare, transportation and logistics.
Uncovering possibilities in retail industry
Location-based advertising and targeting via beacons, BLE (Bluetooth low-energy) devices that are used to send out notifications and promotional content to users' devices nearby.
Beacons can be used inside a shopping mart as well as in a supermarket to help customers find desired items and avail nearby deals.
Inventory can be managed in real-time by tracking smart shelves that'll notify you whenever it runs out of stock.
Stores like Amazon Go can rule the future of retail- courtesy IoT sensors and computer vision technology.
IoT in healthcare sector
Fitness bands and trackers are already in trend. People like to monitor health stats and data while they are on the move and analyze it for future undertakings. Data collected by connected devices can further be used to monitor health-related issues and measures to be taken for quick aid.
Connected medical machines can help in offering swift treatment so that a wound or a virus can be prevented from infecting other parts of the body. The measures taken at the right time can help in reducing severe medical conditions and even deaths.
Sleep tracking devices can present users with the data that they can use to build a healthy life for themselves.
Health tracking from anywhere can help users to handle chronic diseases and treat them within time.
Transportation and Logistics
One of the biggest innovations of IoT that will revolutionize the entire transportation parlance is self-driving cars. With car producers like Tesla and technology giants like Google and Uber working to make it happen more efficiently, the future looks fruitful.
The frequent use of connected devices will make things easier for logistics firms. The shipment and trucks can be tracked easily and efficiently. No discrepancies will prevail and resource allocation will be highly effective with a raised level of transparency.
Home automation
Opportunities in this sector are endless and here are some of the use cases-
Smart and connected home appliances for enhanced operations and better monitoring
Intelligent home assistants like Amazon Echo and Apple's new HomePod with Siri
Smart hub stations for controlling other connected devices centrally
Autonomous security systems with alarms, doorbells and unauthorized detection in homes
Smart lighting with sensors that can detect human presence inside a room and switch on/off the lights accordingly
Final Words
IoT is one of those potential rich sectors that is yet to gain pace. With more companies and innovators getting involved, the signs are clear that it will be one of the major contributors to the forthcoming change in business practices. However, one challenge that keeps haunting entrepreneurs is the availability of connection all the time for connected devices to work efficiently. At homes, we have Wi-Fi, which gets interrupted by power failures while outdoor connectivity has always been a concern as it's hard to keep devices connected 24*7.
Looking for IoT app development services? Hire Offshore web developers to put your idea into action.