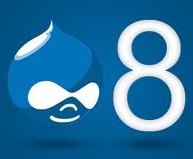 Drupal 8 will be launching soon in 2013 winters and it would be having many different updated features also. Everybody in the web market is talking about the features of this new version. According to the developer's point of view, Drupal 8 will help to reduce their workload. Earlier versions of Drupal were not much familiar to its users and hence, clients also need some highly developed or updated features into it.
Features of Drupal 8 (the new version):
Drupal 8 has various interesting features and it gives its users a friendly platform. Here some of its features are illustrated below:
Content Authoring:
The end users, means the actual users of the website for whom sites are made find it easy to manage content included in the pages made by the developers. It is to be noted that the developers' work finishes after completing their tasks on a particular project and then the end user is free to use the project. End users are able to make a post and publish it on the web, are able to view the content and can make changes to it. In other words they are able to modify the content in the manner they want. There are many other tools also available for users to make changes or can say modify the number of content containing pages like designing of layout, editing and dashboard tools.
Mobile device compatibility:
The websites which are going to be prepared in upcoming Drupal versions will support mobile devices. It is quite possible in the coming years that every person will purchase only mobiles instead of costly desktops, palm tops, tablets because all the sites hosted by Drupal are going to be easily supported and anyone can operate them.
Design for Drupal:
All the designers worked together to make Drupal look good and pleasurable to eyes. In Drupal 8, you can see the effective efforts of the designers.
Configuration Management:
The all new Drupal 8 will be introduced with the major features in which the user can expect ready to solve issues and explanation to the issues which are going to be placed at one place. This proposal of Drupal 8 is introduced with the increasing demand of users for using a live site, site testing and performance.
Multi – Lingual Scheme:
This feature is added to make Drupal familiar to all over the world through translation of words into various different languages. If you present something in the translation box provided in Drupal, it will translate your given text into the language you want.
Drupal 8 also includes many features which will help developers and its end users to understand it easily. Drupal 8 is surely going to create a boom in the market.
By: Vipin Jain